We were just strolling through the medina of Essaouira as we ended up on a street leading to the harbor. I read before our trip that it is a cool place to experience a large part of the local culture.
The first thing that catches your eye when you enter the area are hundreds of seagulls circling over your head. Luckily none of them shit on us while we were there. The second thing are the iconc blue boats you will see in almost every harbor. When I look at the number of people who are here at lunchtime, I can well imagine how much is going on here when the boats bring their catch ashore. With all the equipment you see here, you wonder what it is all about and for what and how they use it. And you start making up your own stories. Fascinated by all the stuff in the harbor I started snapping some frames. All of a sudden somebody approached us.
The man wore a traditional djellaba and sunglasses. Because of the hood pulled deep into his face he looked a little shady at first. His name was Hassan. He turned out to be one of the local fishermen. He wanted to know where we came from and if we liked Essaouira. After he knew that we came from Germany, he began to talk about the fact that he himself had lived in Osnabrück for a couple of years and even tried his luck as a fisherman in the Baltic Sea near Lübeck. But the most amazing thing was him speaking just perfect and fluent German. You could really feel how much he enjoyed talking to us in German. Hassan explained to us that now is the best time to visit the harbor, as we can still experience it in its old glory. Apparently, the government will make a lot of changes regarding the buildings and the allowance of catching fish. A lot of stuff will be built completely new. Things such as restaurants and docks for bigger ships. We soon realized that he knew every little detail about his daily environment. With that in mind I got all excited about what happened next.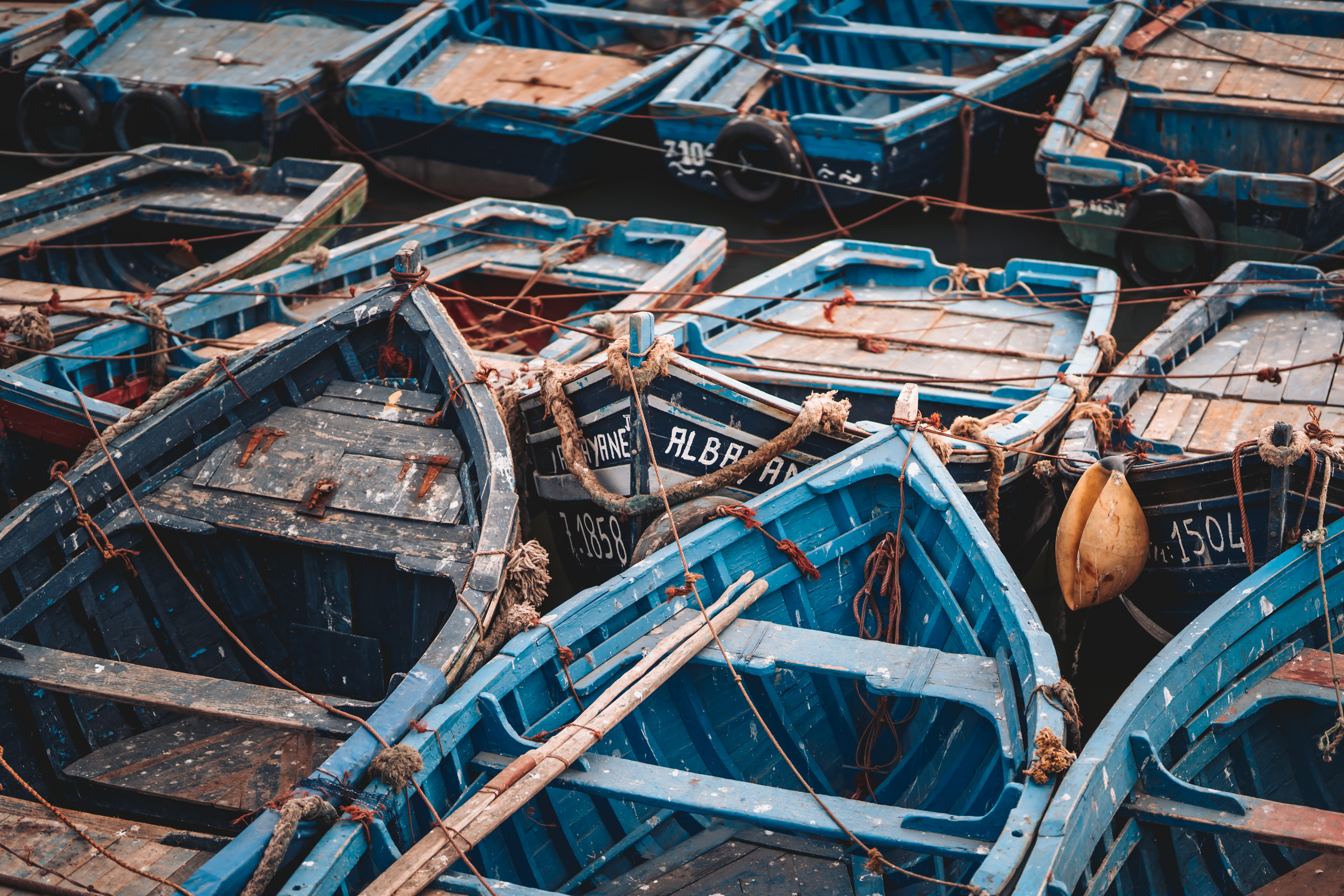 Luckily Hassen invited us to join him on a tour of the harbor. He explained to us what their daily routine looks like, which hooks they use to catch which fish, how their fishing methods work and even how everything is stored on the boats. We looked quite surprised when he told us that they sometimes catch blue sharks with their little boats. With their bare hands on the longline. These sharks can reach a length of more than 3 meters. To be honest, I cannot image how these fishermen spend days on the water in their little blue nutshells, catching sharks and other fish. If you compare it to our daily life, we have absolutely no reason to complain. Oh and before anyone asks, they have no interest in just cutting the fins off the sharks and throwing them back into the ocean. Every part of the animal is used around here and they are allowed to catch these fish. 
We were also introduced to the crew of a trawler, who were busy getting their ship in shape. On the way, Hassan told us everything he knows about the nets they use. When you see the difference between the various types, it quickly becomes clear that these people cannot leave anything to chance. Their survival relies on a good catch. If you watch the fishermen at work, you notice that they can do many different things. They must be almost masters of everything. Whether it's maintaining their own boat, their nets or the hooks. So never think that being a fisherman is an easy task.
The funny thing about talking to the guys on the trawler was their absolut love for football. Especially for Bayern Munich. They could not understand at all how I can be from Bavaria and still not be interested in football. When asked who my favorite player was and the countless names they listed, I could only answer with a questioning face. They had a really good laugh about the fact that I knew absolutely nothing about it. Despite the short starting difficulties we goofed around a little bit. They were really very nice people. Afterwards we all said goodbye with a big grin on our faces.
After Hassan showed us the boats and the fishing gear, he led us up to the harbor wall. We climbed around a sketchy fence where you could easily fall to death if you slipped. On the other side a view over the bay was waiting for us. You could very well see the island Île de Mogador. We were told that it is a nature reserve because of the breeding birds. Only the fishermen have permission to enter it. Since most of the moroccan people are muslims, there is also a small mosque on the island. So the ocean must wait when it is time to pray.
Hassan is a fascinating man. If you look at his face, you see that his life is hard and he has seen a lot. His father, uncle and many others in his family were also fishermen. He himself started his career as a trained banker. He even graduated from high school! But eventually his passion for the ocean and for being outdoors outweighed. He quit his job and followed the family tradition. For me this is a very brave decision. Especially in a country like Morocco. Here, most people already live from hand to mouth anyway and there is no social safety net, as for example in Germany. And just to put things in perspective: while we were talking to him, the ships were in port for the sixth day in a row. It was just too windy to fish.
We had already made our own experience with it. When we were surfing two days before, we were simply blown off the board every time. For us it was just a shitty surfing experience, but for him it means that he doesn't earn money to feed himself and his family.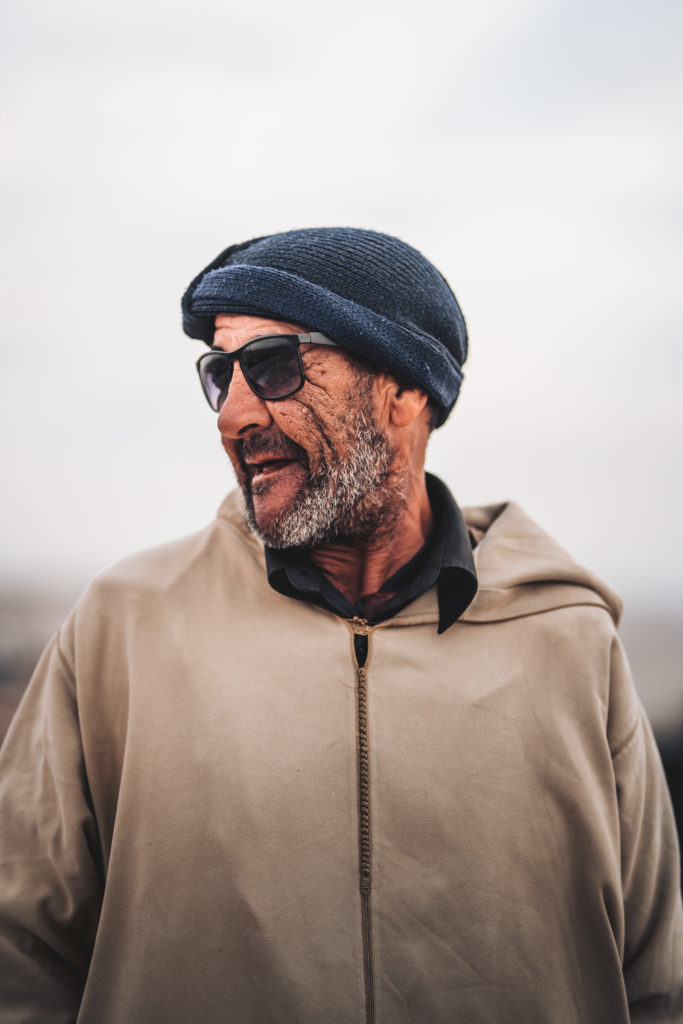 "I would have loved to get a degree in computer science. But how am I supposed to operate a computer with these hands?"
Meeting Hassan and learning about his life really get's you thinking about yourself. Every little bit he has, he has to demand from the ocean every day. And he knows very well that he could die every day if things go south.
Nevertheless, you have a man in front of you who is teeming with the joy of life, who makes many jokes and loves what he does from the bottom of his heart. I can only hope, that the coming changes will benefit his life as a fisherman and make him happy.
When we started our trip in Morocco, I was eager to ask strangers for a photo. But to be honest, I was always a little uncomfortable and I could never get over myself. Hassan was the first person I asked for a portrait. It makes me proud to know that I was able to get rid of this discomfort through him. I will never forget the many stories and the great experience I had that day.
Shukraan and be well, my friend!